Peace Maker
June 29th, 2023
Curated by Jake Kimble
Haley Bassett
(b. 1991; Métis)
Ceremonial/Art is thrilled to present Peace Maker by Métis artist Haley Bassett; a collection of recent works that explore how time, place, family histories, and personal traumas converge as formational aspects of the self. The pieces included in the show all incorporate or celebrate the flora of the Peace country, Treaty 8 Territory, and the Métis homeland. Natural materials harvested from the Homeland act as anchors, emblems, armour, and masks. They speak to the artists ties to the land and how it constitutes part of their very being.
Please join us!
Haley Bassett is an interdisciplinary artist of Métis and settler descent from Dawson Creek, BC. She was born in 1991 to cattle-rancher parents and now lives and works in Sunset Prairie, BC, in the traditional territory of the Dene, Dane-zaa, and Cree encompassed by Treaty 8 and the Métis Homeland.
Hunter
by Haley Bassett
Much of Métis culture has been lost to the pressures of assimilation. Practices such as beadwork, embroidery and finger weaving were stolen, hidden, misplaced or destroyed. Teachings were not passed down, songs were forgotten, languages were lost, values were not imbibed.
Today some aspects hide in plain sight, detached from their cultural and historical roots. The torch has been passed on without the realization of when or how it was lit. Hunting has morphed from a means of survival and a way of life to an industry, a collection of brands and a pastime that can be bought off a shelf. The backbone of a Nation has been reduced to a line of merchandise in Canadian Tire. However, hidden beneath the layers of camouflage, commercialism, cheap trappings and politics, the Hunter still stands.
Settlers can stalk prey, but the Laws of the Hunt did not shape their society. A pioneer can be self-sufficient, but they are not otipemisiwak, the People Who Own Themselves. White Canadians can eat canned moose meat, but without swallowing the stigma of poverty. Many claim it as tradition, but not all are descendants of buffalo-hunters. Many have complaints against Canada, but hunting regulations were not weaponized against their ancestors. Anyone can aim a rifle, but not all wield the same blood memory.
Yes, much of Métis culture has been lost, but its embers remain to be stoked and reclaimed despite centuries of systemic erasure. When you dress a deer, you practice your culture. When you eat wild meat, your culture sustains you. On moccasined feet, light-skinned or not, when you walk the Homeland, you tread your territory.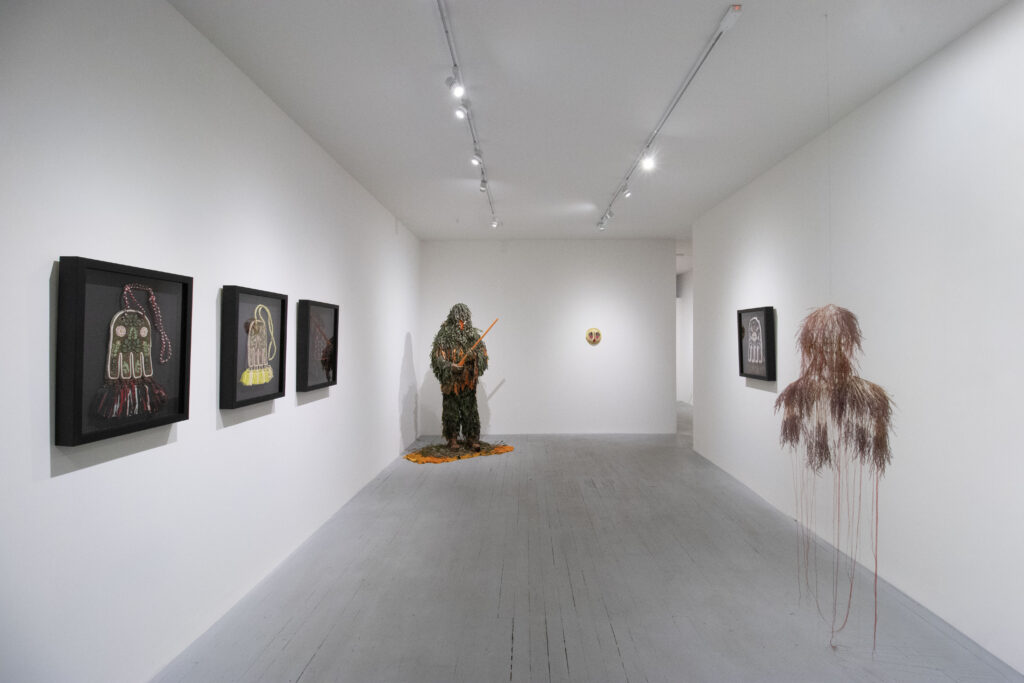 Installation View of Peace Maker,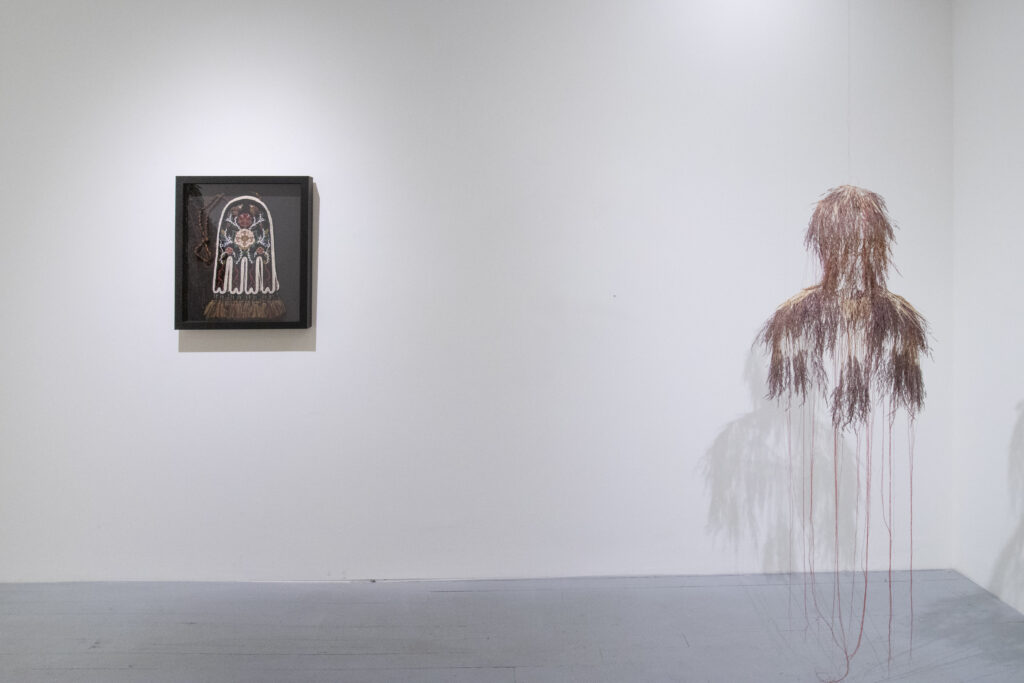 Installation View of Peace Maker,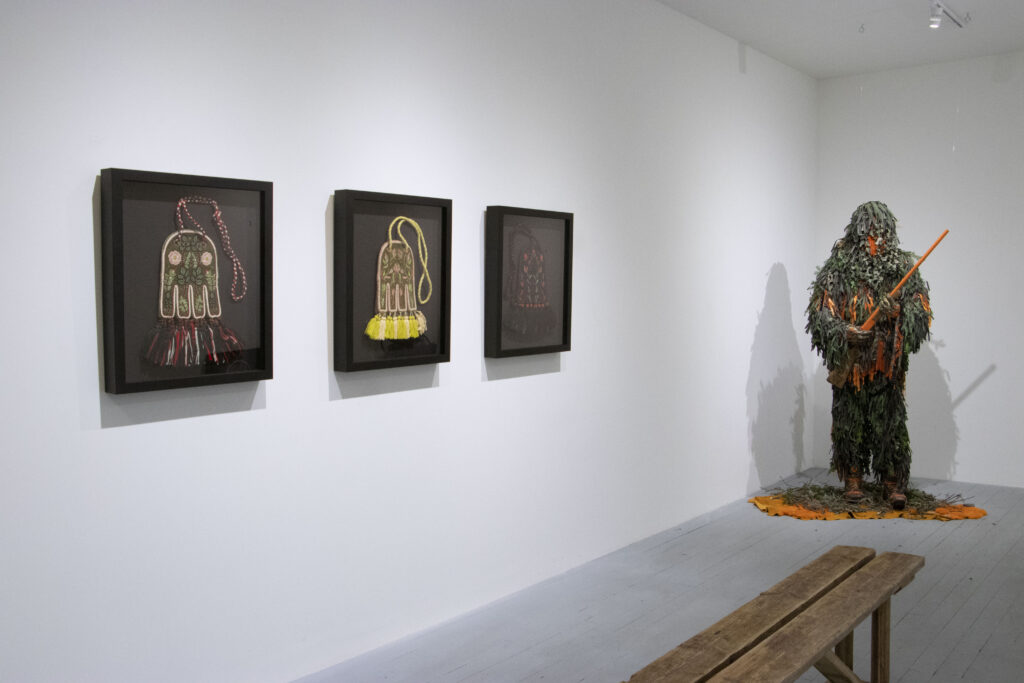 Installation View of Peace Maker,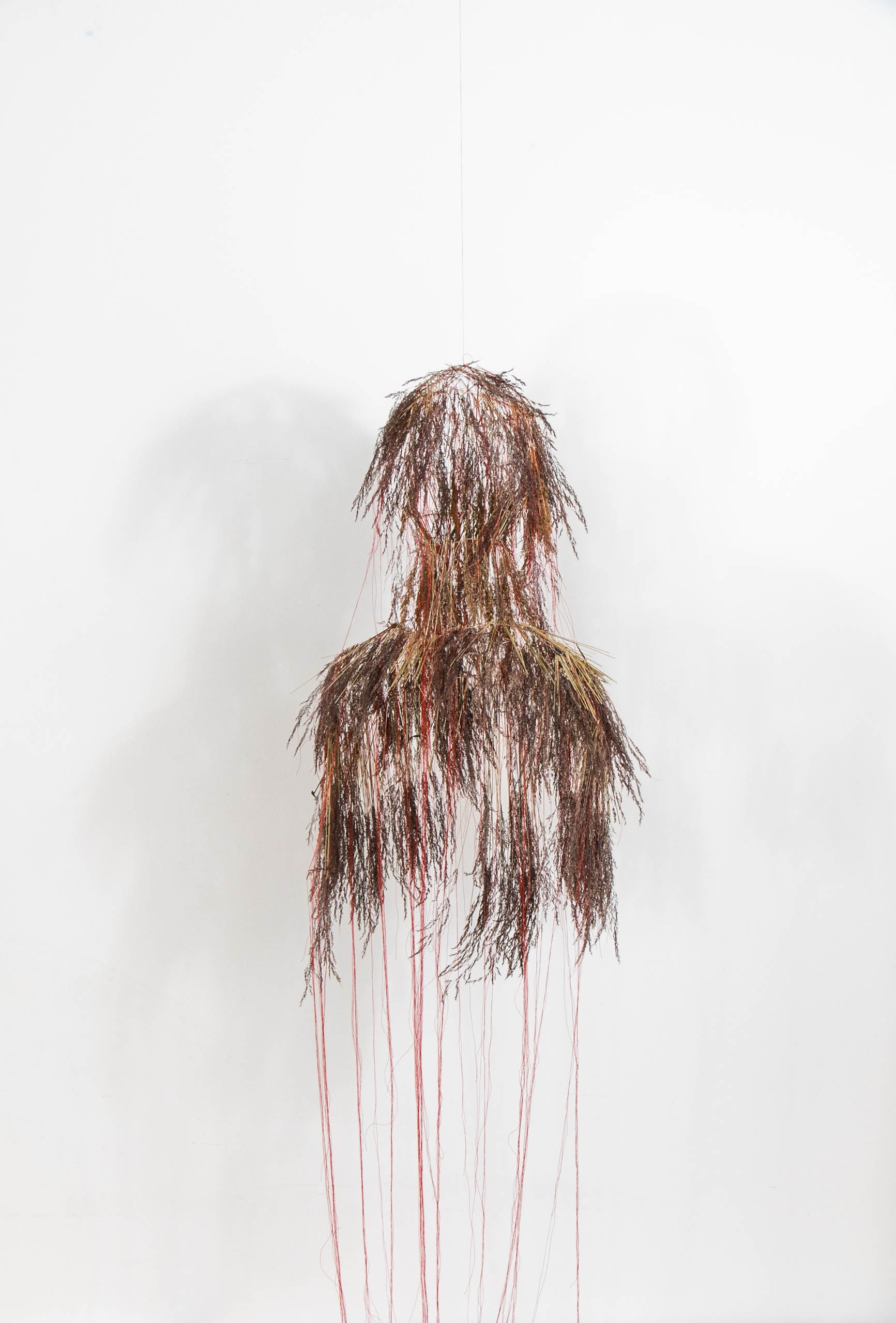 Self-Portrait as Patience and Persistence ,
2019,
60" x 30" x 22",
Dried grass, wire, thread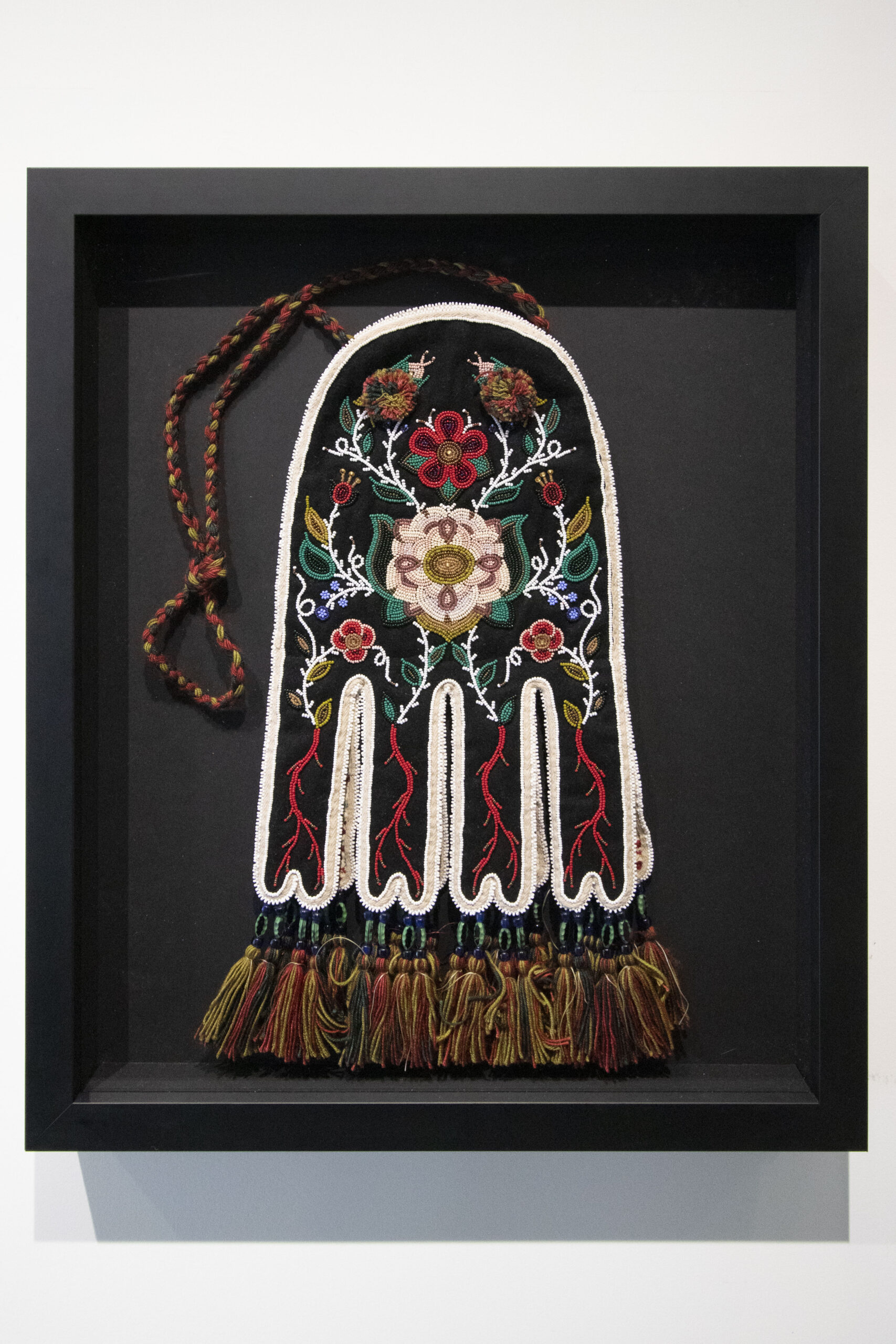 Fire Bag,
2023,
22" 13" x 2",
Wool stroud, Czech seed beads, antique beads, cotton twill, thread, sinew, yarn, cotton fabric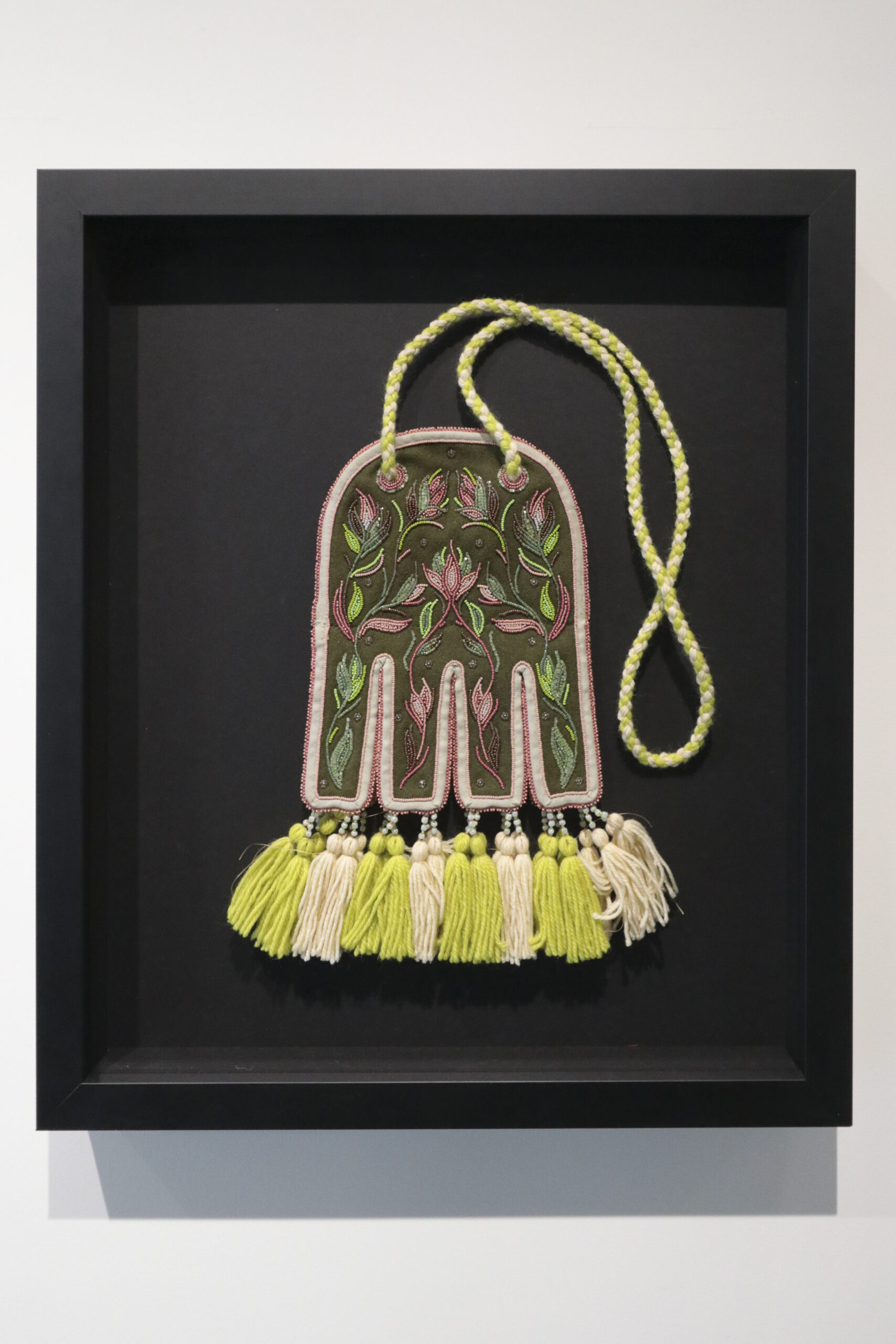 Indian Paintbrush,
2023,
22" x 25 3/4" x 3",
Wool stroud, Czech seed beads, antique steel cut beads, cotton twill, thread, sinew, yarn, cotton fabric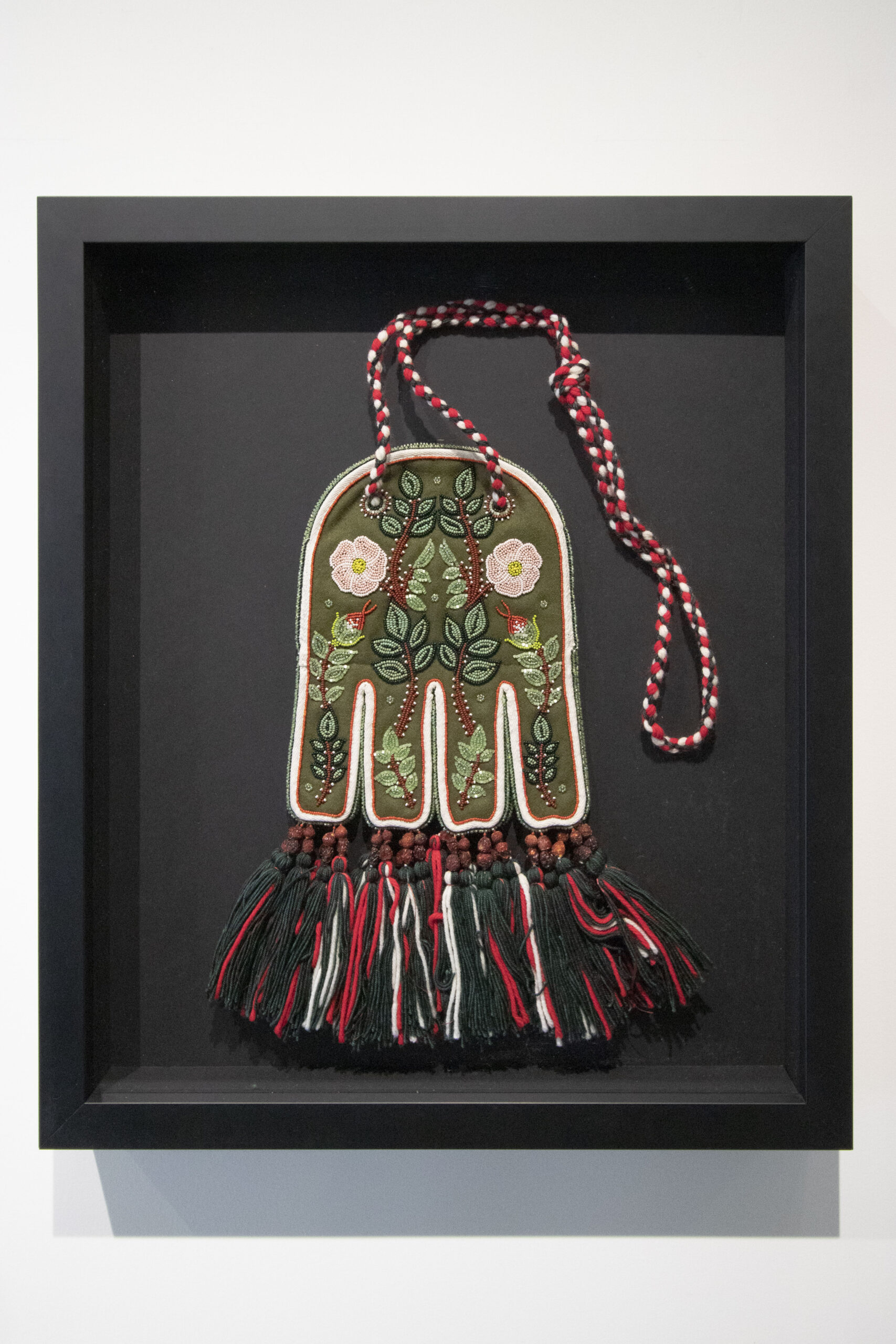 Wild Rose,
2023,
22" x 25 3/4" x 3",
Wool stroud, Czech seed beads, antique steel cut beads, cotton twill, thread, sinew, yarn, cotton fabric, wild rose hips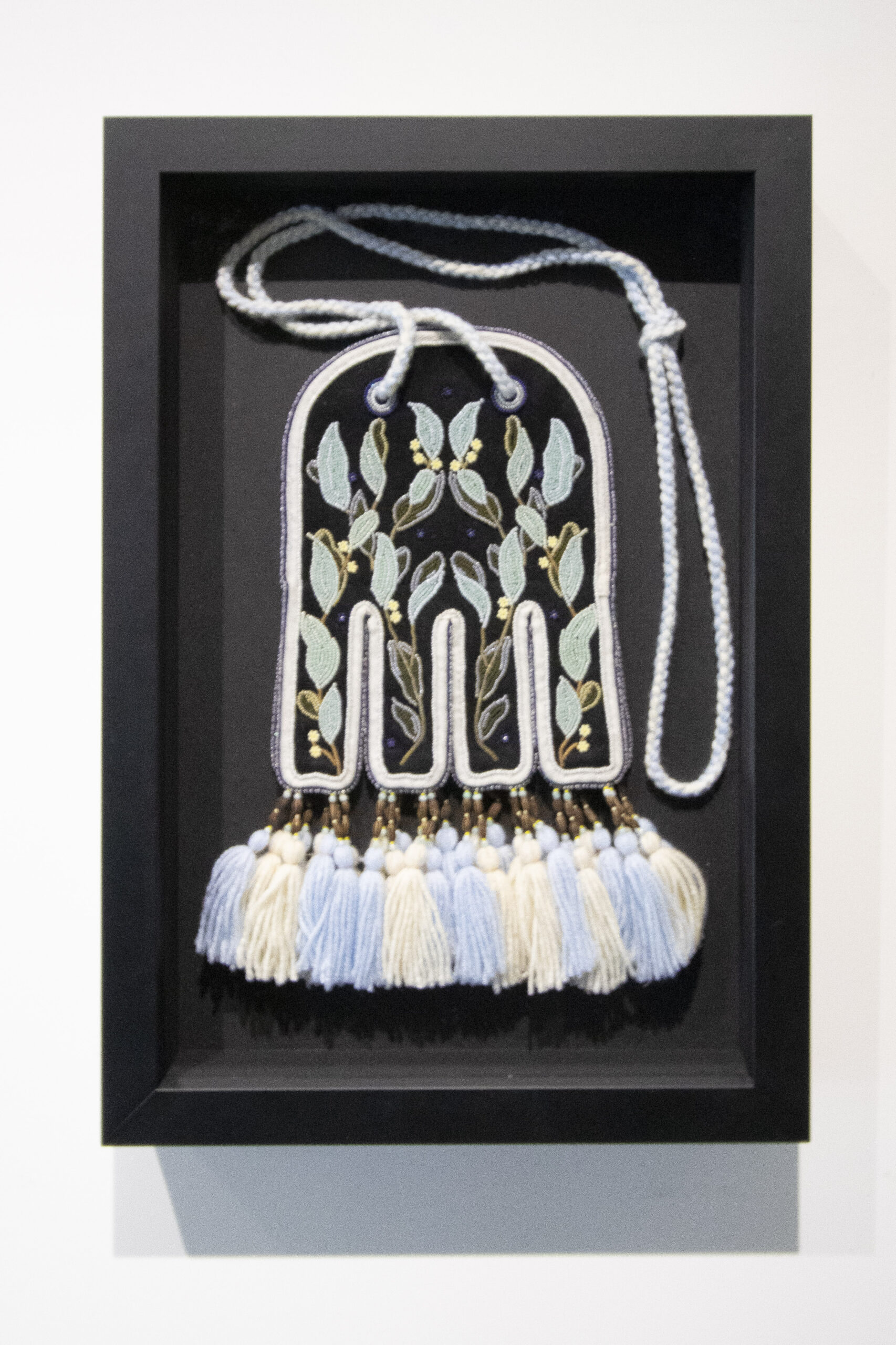 Sage and Wolf Willow,
2023,
15 3/4" x 22 3/4" x 3",
Wool stroud, Czech seed beads, antique steel cut beads, cotton twill, thread, sinew, yarn, cotton fabric, silverberry beads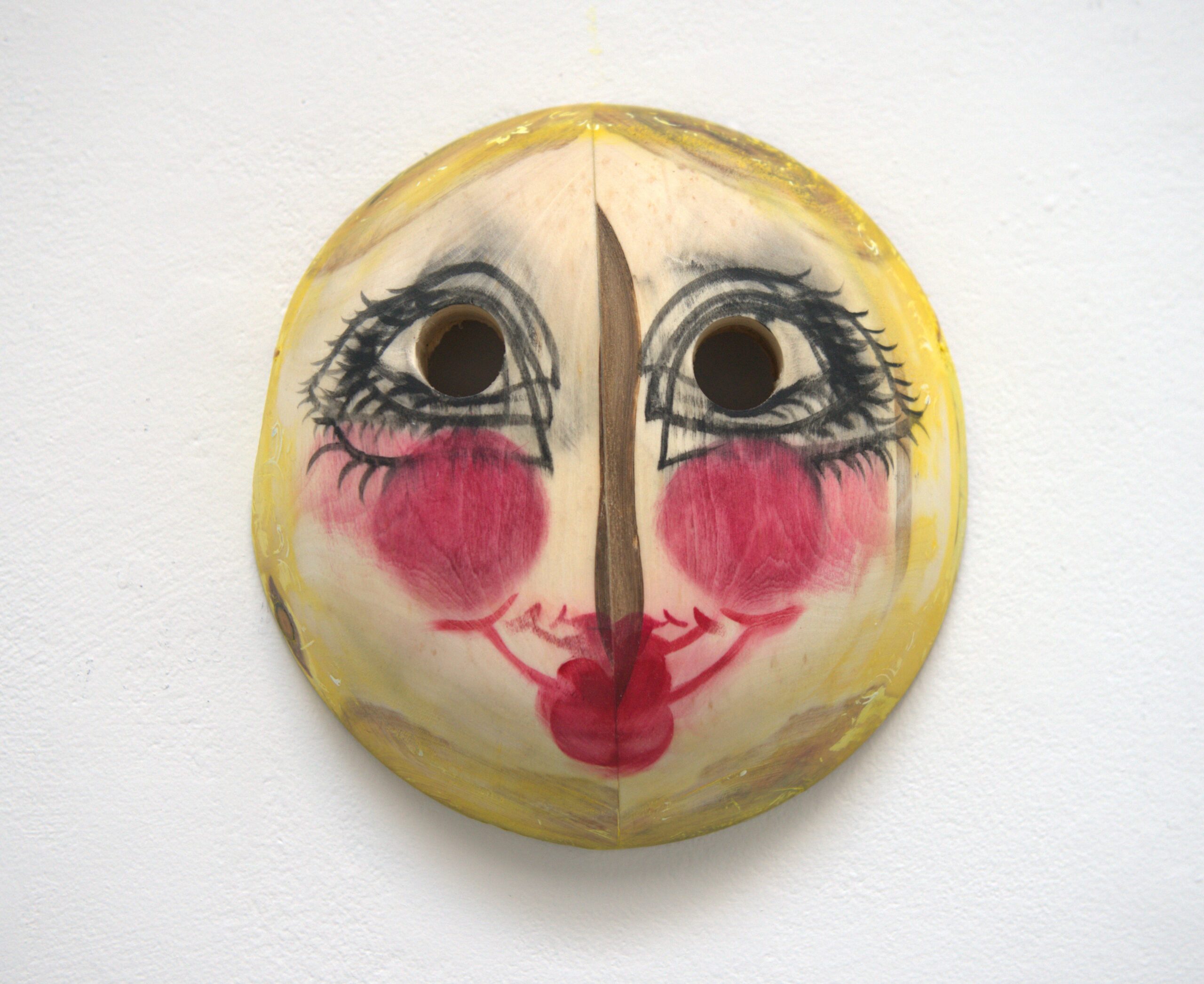 Middle Sister,
2023,
9.5" x 10" x 3.5",
Poplar, Oil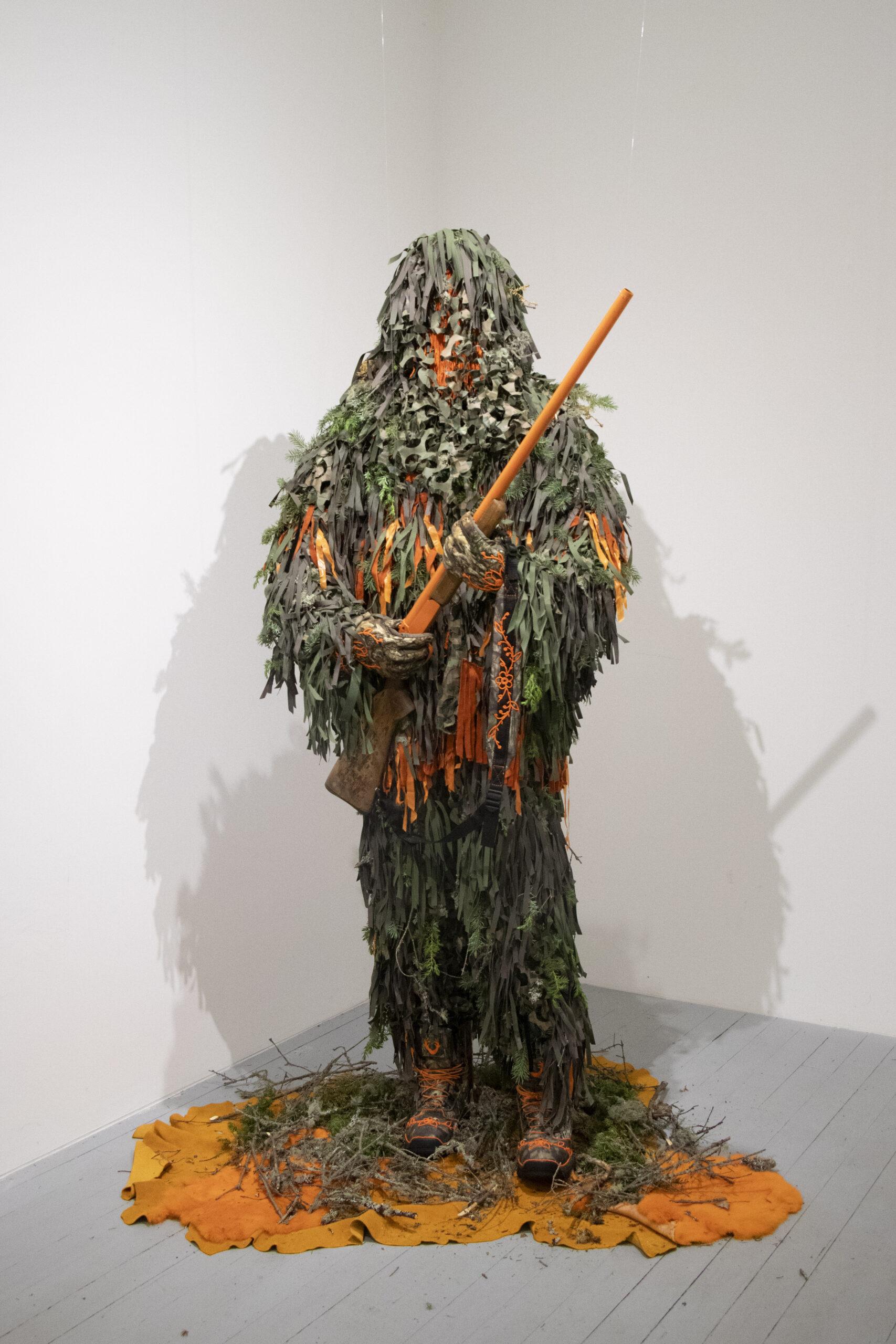 Hunter,
2023,
72" x 36" x 24",
Ghillie suit, seed beads, trail tape, hunting boots, gloves, balaclava, rifle sling, mannequin, spruce boughs, willow, old man's beard, deactivated shotgun, Rustoleum paint, dyed rabbit hide, deer hide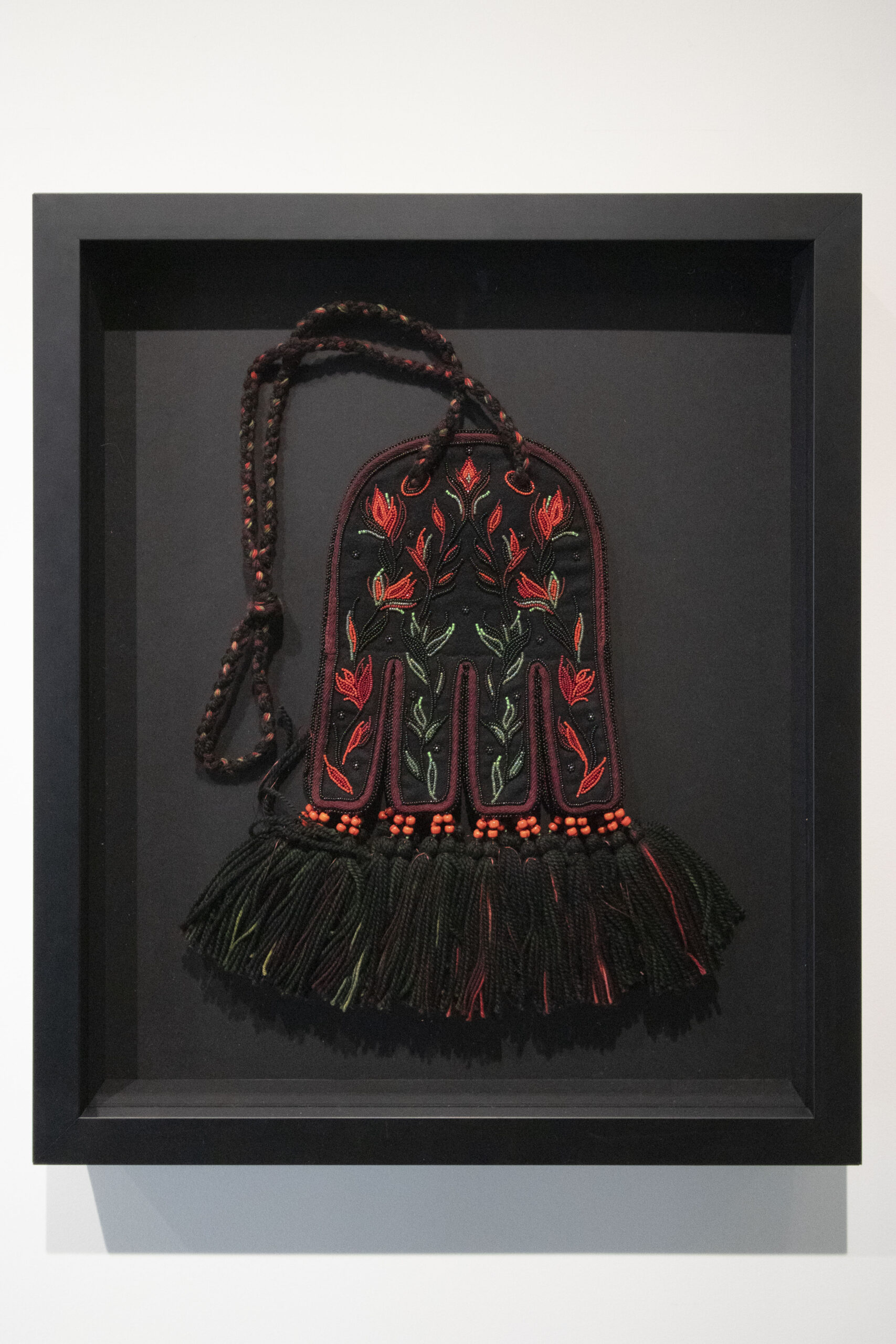 Prairie Fire,
2023,
22" x 25 3/4" x 3",
Wool stroud, Czech seed beads, antique steel cut beads, cotton twill, thread, sinew, yarn, cotton fabric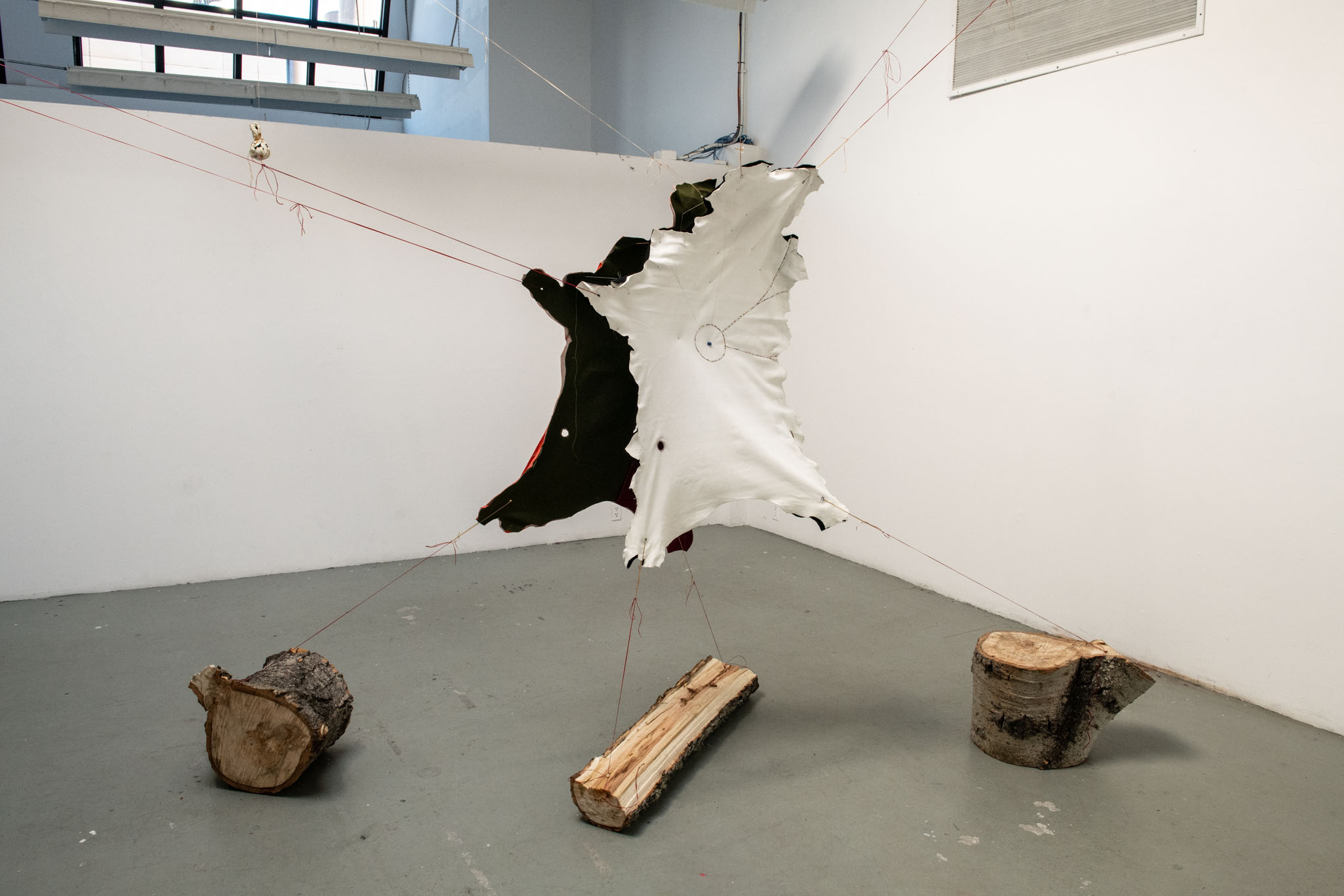 Necessary Tension,
2023,
Dimensions Variable,
Commercially tanned deer hide, found faux leather, stroud cloth, thread, Czech seed beads, antique Russian beads, imitation and natural sinew, poplar, cotton fabric